About McGowan Photography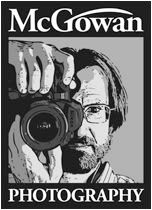 McGowan Photography is owned by Kevin McGowan, a commercial photographer based in Tacoma, Washington. He produces architectural, product, industrial, corporate and aerial images. Kevin is adept at creating bold, geometrically driven compositions as well as evocative organic imagery. He blends technical discipline, artistic vision and economic sensibilities to help clients achieve marketing success.

With over two decades behind the camera, Kevin has extensive experience photographing building interiors and exteriors, food, jewelry, building materials, tools and machines of all sizes. In addition, he's photographed a memorable stream of people engaged in producing and promoting all manner of products and services. Clients include national, regional and local companies in the medical, financial, design, real estate, building and manufacturing arenas. He also enjoys helping entrepreneurs and fine artists pursue their visions.
THIS WEBSITE IS BRAND NEW and will be continually added to! I invite you to come back often to see updated samples of images done on assignment and for stock use. Most of the images in the portfolios are available as stock, but the bulk of the stock pages will take another few months to set up. In the meantime, drop me a line and let me know your needs- I'll let you know if any of the thousands of images I have may meet them. All the best to you! -Kevin